WWOOF comes in as a movement that aims to join organic farmers and growers with volunteers in an effort to increase cultural understanding. It's all about constructing a global community. Here's all about WWOOF.
WHAT IS WWOOFING?
WWOOFing stands for 'World Wide Opportunities on Organic Farms.' The volunteer or 'WWOOFer,' gets the opportunity to spend time in an organic farm, learn what it's like, how it works and what sustainable agriculture is all about. During your stay in the farm, you don't have to pay for board or lodging. It is not a monetary exchange program.
WWOOF is an educational program and it offers the visitors / WWOOFers the chance to learn what WWOOFing is about. It is all about learning how to farm, taking part in the organic agriculture program and learning the culture. WWOOFing is a worldwide movement, and WWOOF-USA® Host Farm Directory has more than 2,000 organic farms all over the nation. Agritourism is rising in popularity.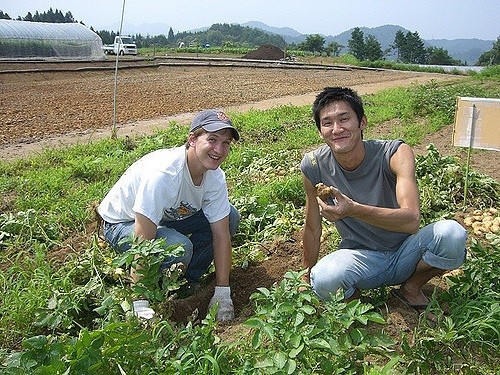 WHO CAN WWOOF?
Most WWOOF groups use the lower age limit of 18 years old as in most countries people below 18 are considered by law to be children. The good news is that different rules apply in different countries and so some WWOOF groups do take younger people. WWOOF Germany, WWOOF Portugal, WWOOF UK and WWOOF Italy accept younger than 18 but sometimes a letter of consent from your parent or guardian is required.
WWOOFing gives you the chance to learn all about organic farming and do real, physical work. Among the things you will discover while WWOOFing are making wine, beekeeping, creating straw houses, growing vegetables and more. You can read about these things in school and online, but there is nothing quite like getting down and dirty and being in a real farm, and that is what you get here.
WWOOFing began in 1971 in the UK. It was the brainchild of Sue Coppard, who together with a couple of friends, wanted to spend some time in a farm. In return for their stay, Sue and her friends performed various tasks around the farm. Following their successful stay, other people soon followed and the WWOOF movement was on its way.
Today the WWOOFing organization is available in more than 50 countries and is available as independents in over 40 more. In the beginning, WWOOFing was confined to the weekends, but now volunteers can stay for longer periods of time.
Aside from those mentioned earlier, WWOOFers will have the opportunity to assist with animal care, weeding and help with harvesting. While a certain level of fitness is required for these tasks, you don't need to be exceptionally fit. Please keep in mind that tasks in farms change on a daily basis, so while you may be given an idea of what duties to perform, these can change.
HOW WWOOFING WORKS
The first step is to join a WWOOF organization. Just go online and look for the WWOOF organization in your country and apply for membership. Earlier we mentioned that only those 18 years and above are allowed, but in some counties like the US, those below 18 can join if they are accompanied by a parent or legal guardian.
Once you have applied for membership, you gain access to that country's list of smallholdings, gardens and organic farms. Here the visitor / WWOOFer can contact a host farm and arrange for their stay and the type of volunteer work the will do. In exchange for the farm work you do, your host will take care of your lodging and food.
As a visitor / volunteer, you will stay with your host in their farm and participate in the daily activities and tasks. There are two types of jobs in this world, those you receive a paycheck for your work and those who's compensation is other than monetary. But in both cases they are a job and that work requires the same dedication and commitment.
There are no hard and fast rules when it comes to the number of hours you have to work, but usually it is 4 to 6 hours a day helping around the farm, and in exchange you will get a full day's worth of accommodation and food.
As a volunteer you will be asked to perform any number of tasks. In addition to those, you will learn and take part in the fundamentals of farming such as bread making, cheese making, how to create mud bricks, milk cows and feed different types of animals. Volunteers may also learn how to sow seed, prepare compost, cut wood, harvest, pack, garden, prune and so on.
The time you stay in the farm will have been negotiated prior to your arrival and will be  between you and your host. The average stay length is 2 to 3 weeks, but it can be as short as 2 days or as long as 6 months; it all depends on your negotiations with your host.
HOW TO BE A WWOOF HOST
If you've got a woodland, vineyard, allotment, garden or farm and adhere to the principles of organic farming sustainability, you are eligible to be a WWOOF host and take in volunteers. Volunteers can provide assistance with your day-to-day tasks and lessen your workload. Another advantage is many volunteers are familiar with bio-dynamic growing and permaculture growing techniques.
There are different types of hosts: some use their land for self-sufficiency, others make a living from it. Some hosts are individuals while others are comprised of families with children. Some hosts are independent while others are part of eco-villages, communities or cooperatives.
If you've got a farm, being a WWOOF host gives you the opportunity to learn the latest techniques for growing organics, and it is also a chance to show people another lifestyle they may not be familiar with.
In other words, WWOOF benefits both host and volunteer, and a lot of volunteers enjoy their experience so much they end up becoming farmers. As a host, this is the right time to spread word about organic farming and its benefits. If you're interested in becoming one, simply get in touch with the WWOOF in your country and they will help with the procedure.
EXPECTATIONS WHEN WWOOFING
WWOOFing has become very popular. It has become something a lot of young people want to try out. Aside from college graduates and adventurers, there are those who are just plain curious want to give it a try. If you're interested in organic farming and want to be a volunteer, here are some do's and don'ts.
DO THE FOLLOWING WHEN WWOOFING
Set criteria: Before you apply as a volunteer, ask yourself why you're joining and what type of experience you want to gain. Do you want to work with animals? Do you want to plant vegetables? Or would you prefer to learn how to create stone walls and prepare local food? Define your goals and you will have an easier time figuring out what to do.
Be honest with your time: How long do you want to work in a farm? Is it just for a few days or several weeks?  Ask yourself if you'd rather spend time traveling than being on the farm or how flexible you can be. While the typical workday is around 4 to 6 hours, it can vary from farm to farm. In some cases you may have to work all day and have the following day off.
Take your time choosing a host: There is no need to rush. Online research makes it easy to explore many opportunities and to read reviews. Don't make your decision after just a couple of emails, as you need to spend a little time getting to know your host –and vice versa – so you can try to ensure a good rapport. During this point, get to know each other's expectations so there are no misunderstandings later.
Location matters: You won't be spending all your time in the farm so choose a location that you will enjoy. For instance, you could choose a farm that is close to camping trails. Or you could go to farm that is adjacent to important locations in the area or near public transport.
Consider the language: Language is another matter to consider. Are you willing to stay in a farm where they don't speak much English or your native language? Others may not want to, but this also gives you the chance to learn and use a foreign language. You should also consider the general atmosphere and situation such as the weather, climate, etc.
Be prepared: Your host will provide for most of your needs, but it won't hurt to be prepared. Your host is going to have the tools and boots, but you should bring a bandana, reusable stainless steel water bottle, pocketknife, hat, work gloves (also recommend some gardening gloves as well), rain gear and work clothes. Make sure the clothes you bring in are proper for farm work and that your pocketknife is properly stored so it doesn't get confiscated if you're visiting a farm abroad, or just buy one on your way there.
WHAT NOT TO DO WHILE WWOOFING
Keep the following in mind so you and your host don't encounter any problems when it comes to expectations.
Do not slack off: If you're interested in WWOOFing, look for a host farm as soon as possible. It's not just you who is going to make plans but your host as well, so plan ahead by 4 to 6 months. Keep in mind that farmers have a lot of work, plus many of them won't have the time to be online and need time to respond. Be polite, patient and keep looking for a farm that you like.
Do not be shy: You'll be staying at their farm so let them know a bit about you. You're not the only one volunteering for that farm so it won't hurt to "sell yourself" by pointing out your strong points. Can you sow seeds? Do you have some experience planting vegetables? Provide some details of your skills. If you don't have any direct related experience, emphasize other attributes. Are you hard working? Do you take directions well? Will you take ownership of the work assigned to you? Going to go far in helping you land that volunteer spot in the farm.
Don't take risks: While you are a guest at their farm, you alone are responsible for your safety. Members of WWOOF have insurance in some countries, but if you're careful you won't ever have to use it. Be careful when spraying on plants, when feeding animals and doing other tasks. Use common sense as well. If you're asked to drive the tractor and you don't feel capable of doing so, let your host know and politely decline.
Do not be rigid: One of the things you will quickly learn in a farm is that plans for the day changes. This isn't like your regular 9 to 5 job. When you emailed the farm back in January, they might have said you'll be feeding the chickens and cows, and doing cleaning and maintenance, but that could change drastically when you arrive.
The important thing to keep in mind is that WWOOFing is about learning life in a farm. You will need to get your hands dirty. If you're prepared for that, you hopefully won't be disappointed.
Don't expect fancy lodging: This isn't a five star hotel, it is farm, so you could end up sleeping in a barn loft, basement bunkhouse or tepee. In some farms you could be staying in a comfortable room with amenities, while in another you may have to set up your own tent.
Remember why you're there: Being in a new place, it's tempting to go out sightseeing. It's allowed provided you're done with your duties for the day. All the good food, meeting new people, the beautiful vistas and local sights and sounds are secondary as you are there to do volunteer work. To gain the respect of your hosts, don't hesitate to get your hands dirty, be responsible and respectful of your work.
WHY CHOOSE TO WWOOF?
You're probably wondering why a lot of people are into WWOOFing, and there is no single answer. WWOOFing is popular right now because it offers you the chance to experience something new, and work in exchange for food and lodging, making it more affordable. You may have read about it and seen videos, but it's a totally different matter to actually live on a farm and live like a farmer. It is quite literally an experience unlike any other.
REASONS TO WWOOF
Gain practical experience. Sure, you can read about biodynamic and organic farming. However, it's totally different when you're out there harvesting, growing and farming. Animal husbandry and other aspects of farming have a sort of therapeutic effect. The feeling of planting and mixing soil is something you'll not likely to forget.
Get to know like-minded folks. If you're eager to know how organic farming works, then there's no better place to find the answers than in a farm with farmers and others there WWOOFing as well. Aside from meeting farmers, you also have the chance to meet and engage other WWOOFers and learn from each other. This is one of the most exciting parts of WWOOFing and what a lot of people look forward to.
Learn the intricacies of farming. Organic farming is not just about planting and feeding animals. When you take in WWOOF, you will learn firsthand the relationship between the community and food production.
Eat organic food. Another reason why people WWOOF is the opportunity to eat organic food. It's your chance to get away from processed food and enjoy fresh healthy produce.
Be fit and healthy. If you haven't had the time or inclination to exercise, going to WWOOF is an alternative. The work you do will help get you in shape. Tasks vary on a farm, and you will never get bored or run out of things to do.
Breathe fresh air. There are some things we take for granted and that includes fresh air. If you've been filling your lungs with smoke and pollution while living in the city, being able to breathe the fresh air will be a welcome change.
Learn something new. WWOOF gives you the chance to learn a new skill at low cost, and at the same time you get to visit different places and meet new people.
Try something different. If you've been doing the same thing over and over during your vacation, then it's time for a change. It's not exactly your typical vacation, but one where you can learn new things and do something adventurous.
Fight stress. This might seem odd at first. After all you'll be doing some farm work, but a lot of volunteers say the experience actually reduces their stress level. While you'll be doing some work, it's more about learning. Throw in the fresh air, meeting new people and being able to visit new locales, and your stress may fade away.
Affordable means of traveling. WWOOFing is one of the most affordable means of traveling. Your food and lodging are taken care of, plus a lot of these farms are far away from populated centers, giving you the chance to explore without spending a lot of money.
No farming experience required. Earlier we mentioned that having farm skills is a plus. That's true but it's not a requirement. Even if you know next to nothing about farming, you can still apply as a lot of farms take in volunteers who have little or no experience. The only thing that's important is you arrive at the farm with a positive outlook and willing to keep up with the daily tasks required.
Being self-reliant. Becoming a volunteer means learning how to grow food and get hands-on training on what it's like being a farmer. The knowledge you gain WWOOFing can be put to good use and in your own garden. People choose to go WWOOFing to learn a new way of living as well as how to be resilient.
PROS OF WWOOFING
Travel to different places. WWOOF is all over the world. It offers you the chance to go globetrotting while learning how to farm and help others.
Usually don't have to pay for food and lodging.
Meet different people and experience an alternative lifestyle.
Gain new knowledge about organic farming.
Learn how to plant and cultivate.
Doing farm work is not just emotionally rewarding but physically good as well. Building walls, hauling rocks and making garden beds is good exercise and good for your body.
You'll be one with nature again. If you've been living in the city for a while, being on farm gives you the chance to get away from it all. Depending on where you chose to go WWOOFing, beaches, the mountains and ocean shores could be near by.
A chance to enjoy different kinds of weather. Is it winter where you live and want to get away from it? Go WWOOFing and enjoy the sun.
It's an experience to remember. By the time your stay is over, you'll have some interesting stories to tell your friends and memories for a lifetime.
Gives you a new perspective on life: some people become so enamored with life on the farm they decide to be farmers full time. This is your chance to see if this lifestyle is for you.
CONS OF WWOOFING
Hard work: Life on the farm isn't easy. You have to get up early and do real work. Aside from feeding and planting, you may end up doing physically demanding tasks.
You will be outside, so apply sunscreen to avoid sunburns.
You need to be careful; If you're WWOOFing for the first time, watch out for insect bites as they're prevalent in some countries.
The amenities vary. In some farms you will have your own room while in others you may have to share it and bathrooms with several people.
The weather might be too hot or too cold. This is something you need to get used to especially if you're used to living in a particular climate.
Internet and TV connections could be sporadic. (Maybe this could be a good thing!)
SOURCE: gogreentravelgreen.com